Our Refrigerated Pickup Bodies are Designed with Cold in Mind. Multi-Stop, Multi-Temp Refrigerated Distribution Performance — Cool Box.
Refrigerated pickup move and deliver temperature controlled goods all across the country.
In 2,170 x 1,450 x 1,580 mm.
Ex 2,420 x 1,750 x 1,800 mm.
In 2,170 x 1,070 x 1,580 mm.
Ex 2,420 x 1,370 x 1,800 mm.
The difference is in the details.
The Cool Box surface material use fiberglass, aluminum and stainless steel, The padding material is polyurethane foam that has super temperature preservation ability with varieties of thickness options.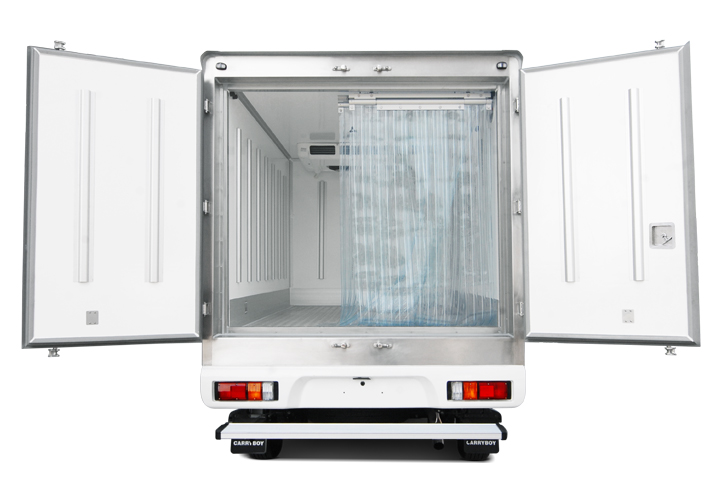 Cool Box are customized to your exact needs. Contact us and we can schedule delivery for a future date that works for you.
Tesco Lotus Shop Online
Cool Box — Ultra Height
Cool Box — Lower Height
Multi-Temp Body
The Cool Box is a smart choice for transporting flowers, meat, seafood, ice and dairy.
Modern equipment allows to simultaneously transport different temperature products, therefore reducing your fuel costs and increasing the efficiency of your logistics.
Multiple temperature bodies are designed for combined delivery systems with a great variety of goods.
Fresh and frozen products, e.g. ice cream, fruits, vegetables, meat, fish, beverages, etc.
The difference is in the details.
Our fiberglass slip-in truck freezer has a new and improved cold plate system. We can accommodate temperatures in between the range of 0˚C to -15˚C.
Convert your pickup to an affordable, efficient, cool or cold delivery.

Carryboy Cargobox is the leading manufacturer of standard dry freight and refrigerated bodies. We've put 16 years of ideas and innovation into our dry freight bodies so you can have the best in the industry.
We ship pickup truck dry freight bodies & refrigerated truck conversions all across the country (and world) !!

We can do almost anything!
T.R.K Bangkok Industry & Exporter Co.,Ltd.
888 Luangphaeng Road, Tabyao,
Ladkrabang, Bangkok 10520,
Thailand

ISO 9001
Quality
ISO 14001
Environmental
©
Copyright 2023-2024
Best view with
mobile devices