Cargo Box is designed mainly for delivery and post companies, as well as for logistics, in a broader sense.

The
Cago Box
is dedicated to the logistic sector, to small and medium enterprises.
In 2,370 x 1,850 x 1,680 mm.
Ex 2,420 x 1,970 x 1,750 mm.
In 2,370 x 1,530 x 1,680 mm.
Ex 2,420 x 1,650 x 1,750 mm.
In 2,370 x 1,250 x 1,680 mm.
Ex 2,420 x 1,370 x 1,750 mm.

The difference is in the details.
The Dry Cargo Freight Vehicles — To suit a range of applications, from general goods, furniture, building material, electrical appliances and specialist equipment.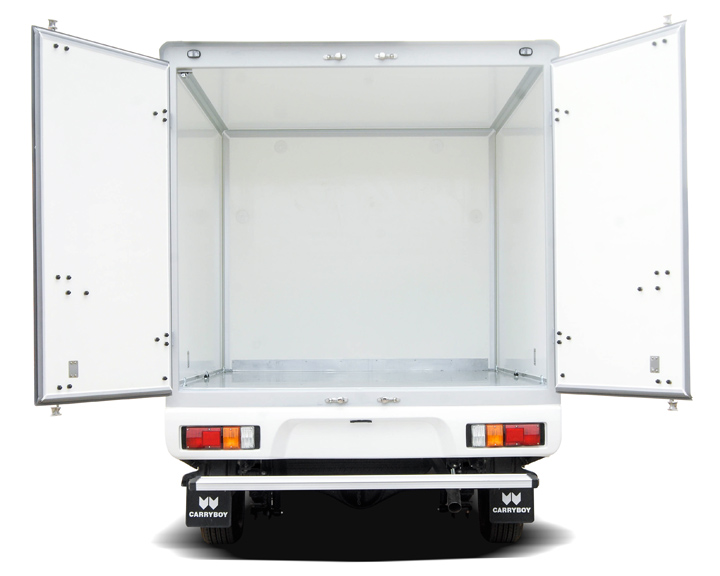 We're eager to accommodate specific needs for custom pickup bodies.
Lower Height
Custom Dry Cargo
Ultra Height
Custom Dry Freight

The Cargo Half offer options for hotel and resort businesses, universities, warehouses, and large apartment complexes.
Medium

— Height 1,800 mm.
The

Half Box

That Moves Your Business Forward
The perfect choice for
commercial vehicles
Our new cargo half suitable for ride range of commercial loading purposes such as furniture removals, transport goods, express delivery, moving office, tools & equipment, household moves etc.
We produce one of the lightest bodies on the market that enable our customers to achieve the highest possible payload.
In 3.04 x 1.89 x 1.76 m.
Ex 3.12 x 2.00 x 1.83 m.
The best

truck bodies


in the business
Carryboy Cargobox is the leading manufacturer of standard dry freight and refrigerated bodies. We've put years of ideas and innovation into our dry freight bodies so you can have the best in the industry.
We ship pickup truck dry freight bodies & refrigerated truck conversions all across the country (and world) !!

We can do almost anything!
T.R.K Bangkok Industry & Exporter Co.,Ltd.
888 Luangphaeng Road, Tabyao,
Ladkrabang, Bangkok 10520,
Thailand

ISO 9001
Quality
ISO 14001
Environmental
©
Copyright
Best view with
mobile devices